Don't rely on the bulldog spirit
This is reassuring: most big UK companies think a stiff upper lip will get them through a crisis...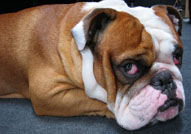 Or at least, that's what their staff seem to think. In a survey of UK workers by BT's Global Services division, 73% thought their companies would rely on the dedication and resilience of their staff to get them through a disaster – rather than any kind of sensible continuity plan. At least we're up for the challenge: in the event of a disaster, more than three-quarters of respondents said they'd be keen to get back to work as soon as possible, while 61% felt it was their personal responsibility to put things right.
You'd think this kind of British bulldog spirit would be a good thing – but apparently not. According to Ragnar Lofstedt, a professor of Risk Management at King's College London (who advised BT on the findings), it's actually doing more harm than good. 'I am concerned that, positive though this resilient streak is, it is actually exacerbating the problem by making employees blasé to the threats that exist in the post 9/11 world,' he said. Presumably he'd rather we spent our days worrying about who's going to blow us up next...
Of course, it's worth pointing out that these figures don't actually prove that UK businesses are neglecting their disaster planning. All they show is that the 752 workers surveyed – all of whom work in a company of at least 500 people – didn't necessarily know what the continuity plan was.