Don't be a sitting duck when the ice and snow hits
An employee slipping on ice and breaking a bone is a payout waiting to happen. Offices closed due to icy roads mean revenue lost. Don't wait for the worst, says Gritit's Singh-Barmi, get a plan in place for the festive season.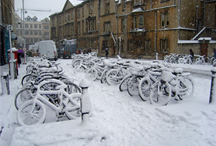 Over the past four years, personal injury claims in the UK have risen by 22% – that's according to the Compensation Recovery Unit of the Department for Work and Pensions. In winter months (November to March), claims have increased by 23%. With reports suggesting wintry conditions are likely to start earlier this year, we can probably expect a further increase in the number of claims.
The law places responsibility on employers and owners or occupiers to ensure that premises are maintained in a condition that does not pose risk of injury. Anything hazardous that can be removed, such as snow and ice, must be taken off the site.
If a claim is made, then it is likely that the owner or manager will be held liable. Not only could you be at risk from injury claims, but your insurance may be compromised if you cannot prove that you made acceptable efforts to maintain your premises in a risk-free state.