Don't write people off too soon, with YouTube
Why it's never too late to make a big impact, with Lord of the Rings, the Black Knight, and Neo.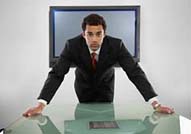 This week Tory Shadow Chancellor George Osborne mooted the idea of pushing back the state retirement age to 66 for both men and women. And although the Government was keen to highlight the potential disruption to retirement plans for older workers, it's worth remembering that not everyone is desperate to get out of the workplace at the earliest possible opportunity. And equally, businesses may have an awful lot to gain by not writing people off when they hit their sixties – there's a wealth of experience there that some will want to call upon for as long as possible. So we thought we'd turn to YouTube for some previous examples of heroes that have kept on going even when the odds seemed stacked against them.

Respect experience:
Older workers have the potential to show unexpected qualities. In this scene from The Lord of the Rings: The Two Towers, Saruman doesn't let the fact that he's over 1,000 years old hold him back; he shows ambition ('a new power is rising'), and certainly commands a lot of respect from that huge army. The fact that he could kill you with nothing more than a large stick probably helps, too.
Don't under-estimate your adversary:
Opponents who are eager for a fight will take some beating. In this scene from Monty Python and the Holy Grail, King Arthur is forced to duel with the Black Knight, who refuses to let him pass. The latter proves so resolute that he refuses to give up even when Arthur has hacked off both his arms and legs ('It's just a flesh wound...')

Never give up on people:
Sometimes people can overcome seemingly insurmountable physical obstacles if you manage them right. In this climactic scene from the Matrix, not even death is enough to keep Neo down: having flat-lined after Agent Smith pumps him full of lead, a quick snog from Trinity restores his mojo, and he's back on his feet catching bullets and beating up agents before you know it. Now that's some serious powers of recovery.

In today's bulletin:
Unstable UK the world's top financial centre
Women don't want to work full-time
JJB Sports: the story that keeps on giving
Secret Millionaire seeks frustrated entrepreneurs
Don't write people off too soon, with YouTube