Doom and Gloom update: no QE for Britain, eurozone still groaning
The Bank of England has held interest rates steady (no! really?) and will not be embarking on further QE for the time being. Oh, and the eurozone will need a decade to recover.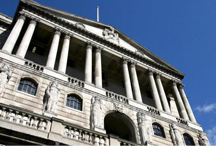 Another helping of economic gruel. The Bank of England has announced that interest rates will be staying at their historic low of 0.5%, and that the £375bn of quantitative easing (or money printing) is the limit. At least for now. Analysts reckon that the Monetary Policy Committee in Threadneedle Street will be chucking in another £50bn of QE next month, when the Bank will publish its latest thoughts on the state of the economy. That sounds to us like they're expecting things to get worse. Great.
Meanwhile, across the Channel, things remain as messy as ever they've been. The International Monetary Fund's chief economist, Olivier Blanchard, has said in an interview with a Hungarian news website that the only way out of the mess is for the weakest nations in the eurozone to get more competitive, and for Germany and other strong members to let prices and wages inflate. His comments are unlikely to go down well with the German people, who have forked out most for the Spanish and Greek bailouts.
Blanchard's recommendation comes dangerously close to suggesting that the eurozone should collectively inflate the euro so that Greece and Spain's debts eventually are worth nothing in real terms. For creditors who have poured literally hundreds of billions of euros into keeping these countries afloat, this is pretty incendiary stuff.