Double trouble for BA as regulator and unions weigh in
More bad news for BA, with talk of a competition clampdown and the threat of strike action.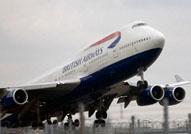 It hasn't been a good morning for BA. News emerged that the EU competition watchdog may come down hard on its proposed three-way tie-up with American Airlines and Iberia, driving its share price down by over 8% - and then the Unite union announced that it was planning to ballot its 14,000 BA-employed members over possible strike action. As you'd expect, BA has been trying to play down concerns this morning. But it doesn't exactly inspire confidence about the airline's future...

According to a piece in today's FT, EU regulators have drawn up a 'statement of objections' to the proposed merger, arguing that the three-way tie-up would have a damaging effect on competition. Potential remedies include forcing the three airlines to give up valuable take-off and landing slots on some of their prized routes. London-New York is the obvious example: BA says the AA tie-up will allow them to stop competing against each other and increase flexibility, but the flipside of less competition is obviously less pressure on pricing (a point that Sir Richard Branson's Virgin and other competitors have been noisily making since the deal was first mooted).

BA has been playing the story down today, suggesting that this was a standard part of the process and that it was confident it could overcome all these objections. But there's no doubt that being forced to give up slots would be a rotten outcome for CEO Willie Walsh, since it would diminish some of the rationale for doing the deal in the first place. BA is already struggling with a spiralling pension deficit and dwindling passenger numbers: throw in this latest potential threat, and it's easy to see why its share price was the biggest faller on the index this morning.

And then of course there's the industrial relations problem. BA has long been at loggerheads with the unions over proposed redundancies and changes to its terms of employment - all of which, Walsh insists, are vital to ensuring the airline's long-term survival. Announcing its strike ballot today, Unite huffed that the process should be about 'negotiation, not imposition' - they're clearly unhappy with what they see as management's high-handed approach (including Walsh's recent announcement of a reduction in cabin crew numbers, without telling the unions first).

On the other hand, talks have been going on for months and months without much sign of progress. And as today's events have shown, BA remains in a precarious position. Walsh will argue that BA needs less talk and more action if it's going to get itself out of its present predicament.

In today's bulletin:
Bonuses under the cosh - so bosses take bigger salaries?
Double trouble for BA as regulator and unions weigh in
Google wants a piece of Apple in smartphone war
Forget your green credentials - hire some apprentices
MT Expert's Ten Top Tips: Reducing employee absence