Dough! Hackers are holding Domino's Pizza customer data to ransom
Hackers claiming to have stolen 600,000 French and Belgian customer records have demanded €30,000 to not release the data.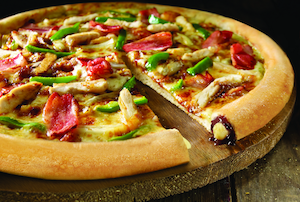 If you're a French Domino's Pizza aficionado and have been sneakily gorging yourself yourself on 'La Steak & Cheese' while masquerading as a vegetarian then beware. Hackers have stolen details of more than 600,000 French and Belgian Domino's customers - including people's favourite toppings, 'because why not'.

A hacker (or group), known only as 'Rex Mundi' (Latin for 'King of the world'), has demanded the company pay up €30,000 (£24,000) to stop them releasing the data this evening.

However, the head of Domino's Netherlands told a local paper they wouldn't be giving in to the demands and assured pizza lovers their financial information hadn't been stolen. Andre ten Wolde also admitted, in case it wasn't obvious, 'there are clear indications that something is broken on our server.'

'Earlier this week, we hacked our way into the servers of Domino's Pizza France and Belgium, who happen to share the same vulnerable database. And boy, did we find some juicy stuff in there!' Rex Mundi posted on an online clipboard.

Said delectable data, 'include the customers' full names, addresses, phone numbers, email addresses, passwords and delivery instructions. (Oh, and their favorite pizza topping as well, because why not).'

The hacker also tweeted, from an account that has now been suspended, that customers had 'the right to sue' Domino's if the data got out.

From Heartbleed to Ebay and now online pizza delivery, it seems pretty much no database is safe from hackers. Now, if someone steals your identity, they can fool your local takeaway too with your regular extra toppings order of hoi sin and jalapenos.