Dragon Peter Jones has made Jessops profitable again
The camera retailer also plans to open six new stores in the next few weeks.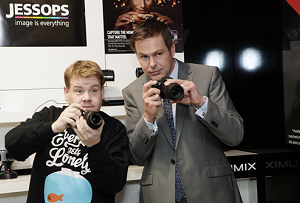 As MT reported yesterday, the decline of Britain's high streets is only getting worse, but today there was some brighter bricks-and-mortar retailing news with Jessops returning to profit. The camera retailer, which used to have 200 stores, fell into administration in January 2013 as shoppers increasingly turned to the web for specialist products.

The brand name and some other assets were snapped up by tycoon Peter Jones, of Dragons' Den fame, who was expected to transform it into an online-only outfit. Instead, he defiantly brought it back to the high street and has since reopened 28 stores.
It might have looked risky, but the new-look Jessops has today announced sales of more than £56m in its first full year of trading and an operating profit of £280,000. It now plans to open a further six outlets by the end of November in Tunbridge Wells, Reading, Milton Keynes, Canterbury, Hull and Kingston.

Jones said, 'This is a great result and I'm excited that we've been able to restore an iconic British high street brand. With the right formula and strategy, the high street is full of potential for growth and job creation: our new stores will create over 100 new jobs before Christmas.'

Jones puts the success down to its multi-channel strategy – matching prices of products bought online, in-store and over the phone. The chain has also focused on making the in-store experience more appealing, with photography courses in some stores as well as one-hour printing.
Jones also 'went undercover' for the brand's Christmas campaign last year, but MT's not sure how much that contributed to its nascent turnaround.