Drinks are on Greene King as Spirit acquisition lifts profits
The UK's largest managed pub group is looking healthier than most in its industry, but the new living wage could leave it with a hangover.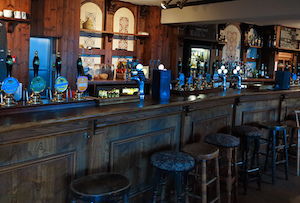 Greene King swept up Spirit Pub Company in a £774m takeover back in July, bringing its total estate to 3,116 pubs - making it the largest managed pub group in the UK. The company's bosses will be toasting the move today, having just posted a 46.9% rise in first half pre-tax profits to £121.3m.
Excluding the growth of Spirit, the company's pre-tax profits increased by 5.9% from £82.6m to £87.5m – compared with 3% growth in the same period last year. Its CEO Rooney Anand said it had been 'a strong first half' with the its core business strengthening and 'significant progress' made in the Spirit integration. 'Like-for-like sales growth in Greene King Retail improved during the half and both Pub Partners and Brewing & Brands delivered profit growth and margin expansion,' he added.
The outlook remains tough for a number of the UK's pubs though, as the introduction of the new 'National Living Wage', announced in July and the cutting of the beer tie coming into effect next year (cause for many tenants to be clinking their glasses together, less welcome news for some pub companies), look set to take their toll on an already precarious industry.