DSG and B&Q wobble as MFI and Woolworths collapse
As two retail giants call in the administrators, Currys, PC World and B&Q post miserable sales figures...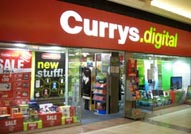 It's not been a good 24 hours for Britain's embattled retail sector. Last night the struggling Woolworths slumped into administration, putting thousands of jobs at risk – as did the ailing furniture retailer MFI. Not surprisingly, most consumers are unwilling to shell out on kitchens and bathrooms at the moment – B&Q owner Kingfisher admitted today that its like-for-like UK sales were down 9% last quarter. Meanwhile DSG International revealed that half-year sales were down 7% at Currys and 11% at PC World, plunging the combined group into the red. It never rains but it pours on the high street...
DSG (or Dixons, as we still like to call it) has never made a half-year loss in its history – but it's done so in style now, posting a £30m pre-tax loss for the six months to October 24. This includes an £11m loss in the UK (where it made a profit of £14m last year). The retailer said big-ticket purchases like fridges were way down, while matching internet prices had squeezed margins (a problem that presumably isn't going to go away). It still thinks it will finish the year in the black, but it's decided to scrap its dividend; more bad news for shareholders, who have seen the stock plummet by 90% in the last two years.
The outlook was almost as gloomy at Kingfisher, which said today that its UK retail profits dropped nearly 20% last quarter. 'Consumer confidence has clearly been shaken over the last few months by international economic events,' admitted CEO Ian Cheshire. Apparently trading is also deteriorating in China – although fortunately for Kingfisher, a strong showing in France and its other international locations helped to limit the damage.