Dubai bailout boosts UK - as our deficit nears £100bn
Dubai's had a £10bn sub from oil-rich neighbour Abu Dhabi. Wonder if France would do the same for us?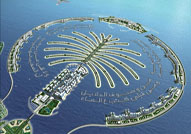 Good news from Dubai: the embattled Gulf state has surprisingly announced a £10bn bailout from its moneybags neighbour Abu Dhabi, which will keep its creditors at bay until the end of April. And since UK banks are in this up to their necks, what's good for Dubai is also good for us: RBS and Standard Chartered both got a big bump this morning, pushing up share prices across the board. Let's hope this start-of-the-week optimism isn't shattered by the release of the latest Government borrowing figures on Friday...

The news from Dubai came as a bit of surprise. Although a bailout by Abu Dhabi always seemed like the obvious option, the latter had seemed pretty cool on the idea - presumably not wanting to seem like the dumb rich neighbour with a blank cheque book. However, Dubai's travails (it's seeking a standstill on $26bn of debts) are an embarrassment for the whole UAE region. So it's perhaps no wonder Abu Dhabi finally agreed to stump up a sub.

Either way, Dubai won't care. The $4.1bn Islamic bond issued by property development arm Nakheel was due for repayment today, and a default looked eminently possible; this would have led to some serious legal wrangling over various state-owned assets. Now Dubai can cover the cost in full, with plenty of spare change left over to meet its obligations in the next few months. It's not exactly a solution, since Dubai World still needs to agree a standstill on its $60bn debt pile. But it buys the emirate some valuable breathing space, and reassures investors that they won't be left high and dry. That should make it easier to cut a rescue deal.

UK investors certainly seem relieved: the FTSE promptly shot up over 50 points (all the other major stock markets enjoyed a similar bounce), with the LSE, which is part-owned by Dubai, the biggest climber. RBS and Standard Chartered, two big lenders to Dubai, also recovered some of their recent losses. So it looks like the immediate panic may be over.

Speaking of heavily indebted countries that are making international investors nervous, the UK public borrowing figures are out later this week, and they're unlikely to be pretty: if the Government borrowed more than £13.1bn in November (which it almost certainly did), the budget deficit for the current financial year will top the £100bn mark for the first time ever. Since Alistair Darling has already said he expects the deficit to hit £178bn for the year as a whole, this isn't exactly a surprise – but a milestone like this will only heighten scrutiny of our battered public finances. And unlike Dubai, we don't have a deep-pocketed neighbour to bail us out.

In today's bulletin:
Dubai bailout boosts UK - as our deficit nears £100bn
'Don't let Kraft steal your company', says Cadbury
Bankers and accountants a drain on the state, says think-tank
Flights of fancy in the office
MT Expert's Ten Top Tips: Build trust in your organisation