Dubai dealing helps Airbus take flight
It's been a pretty good few days in the Middle East for troubled European aeroplane maker Airbus, currently out at the Dubai Air Show. After stealing ahead of bitter rival Boeing to seal a big order from airline Emirates, it's now sold another 100 planes to Dubai Aerospace Company, an aircraft leasing business.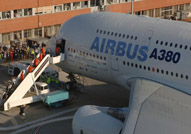 DAE has put in a preliminary order for 70 A320s and 30 A350s, which would be worth about $13.5bn. The only downside is that they've decided to hedge their bets and order another 100 from Boeing too, but Airbus probably won't be complaining too much. It's just sold another 22 A320s to Saudi Arabian Airlines, while this weekend Emirates (which had previously stated its intention to buy from just one of the two companies) decided to put in a $20bn order for 81 Airbus jets, with the option to buy a further 50 later on.
There was more good news for Airbus as it made the first private sale of its new A380, to Saudi Prince Al-Waleed bin Talal. As the biggest shareholder in ailing US bank Citigroup, it's not been a great month for the Saudi prince – but clearly the bumper severance payout to departing CEO Chuck Prince hasn't made too much of a hole in his enormous bank account.
The prince rolled up to the Dubai show in his custom-built Boeing 747-400 – which is just so last year – and after a fifteen-minute inspection, promptly signed up to buy a spanking new A380 (which has twice as much floor space). These have a list price of about $320m, although as the first private buyer, you'd hope the prince managed to get himself a good deal.