Dubai debt crisis puts the whole world in a spin
As we wait to discover where the financial bodies are buried in Dubai, more stock market chaos looms...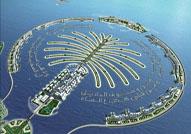 If Dubai does default on some or all of its $80bn debt pile, who's going to get stung? That was the question the world's markets were asking yesterday - and unfortunately, the answer is almost certainly likely to involve British banks. Yesterday the likes of HBSC, Standard Chartered and Barclays saw about £14bn wiped off their values amid fears about their exposure to the debt-riddled Gulf emirate, while the news even lopped $5 off the oil price. And with Wall Street and some of the local markets still on holiday, things might get worse before they get better...

News of Dubai's woes has already hammered share prices - the FTSE saw its biggest one-day fall since March yesterday, and it was down again this morning (as was the rest of Europe) after big losses in Asia overnight. Although it seems to have recovered since, there's no doubt that investors are extremely nervous about the situation in Dubai. As well as the possibility of defaults, which would be rotten news for lenders (and the last thing they need at the moment), there's also presumably a chance that Dubai will have to launch a fire sale of its myriad assets (which include stakes in Cirque du Soleil, Travelodge and the London Eye) to raise cash, which would depress prices everywhere.

For now, the big issue is that nobody's quite sure who holds Dubai's $80bn of debt - which means lots of banks have taken a pasting, including the big British ones. A UAE bankers body reckons HSBC has doled out £11bn of loans in the region (hence why it lost £6bn of value yesterday), while others have suggested that Barclays and RBS are also in it up to their necks. Ironically, RBS is the only one of these to have seen its share price rise today - because it's just signed up to the Government's Asset Protection Scheme. So if RBS really does suffer heinously from the Dubai fallout, the taxpayer might actually end up covering some of the tab. Brilliant.

What's more, this week there have been national holidays in the US (Thanksgiving), the Middle East (Eid) and in Singapore. So some of the most affected markets haven't had the chance to react to the news yet; when they do, we can expect more sell-offs.

It's clear that this Dubai crisis has not just hammered confidence in emerging markets; it's hammered confidence generally, not least because it's all come largely out of the blue. Investors have been reminded that the effects of the credit crunch may not have gone away after all. Arguably, by the standards the UK has recently become used to, Dubai's debt pile is actually relatively modest (the Government makes loans of that magnitude without even telling us these days). But the markets are still very easily spooked...

In today's bulletin:
Dubai debt crisis puts the whole world in a spin
Carphone Warehouse rings up bumper profits
Recession woes force Eastern Europeans to flee home
MT Exclusive: Entrepreneurship can solve youth unemployment, says Rod Aldridge
Psychology at Work: How to spot an office liar