Dubai flexes its muscles
Looks like Lewis Hamilton may not be the only British institution to be blowing a healthy lead. News this morning that port operator DP World has decided to list in Dubai is a reminder of the rapid financial progress being made by the oil-rich Middle East. Is it time for the City of London to start looking in its wing-mirrors?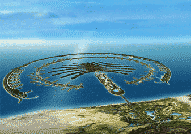 The flotation is likely to put a price tag of about £10bn on DP World, which it will use to pay off the debts it incurred when it swallowed up P&O last year. Chief executive Mohammed Sharaf said this weekend that his company had been planning to list the 20% stake on the London Stock Exchange, but had decided to opt for Dubai's youthful IFX exchange instead. The deal, the largest ever flotation in the Middle East, makes DP World the first homegrown Dubai company to be listed on the DIFX, and is being hailed as a milestone in Dubai's bid to become a major global financial centre.

Sharaf said the listing would also be a way for Dubai's government-owned entities to lose their reputation for a lack of transparency. DP World had never previously published financial figures, leading to accusations of assistance from government subsidies. Following the deal the company will be open to much greater scrutiny. The first figures, published on Sunday, showed it made earnings before interest, tax, depreciation and amortisation of $705m on turnover of $2.08bn during 2006.

Sharaf may be touting the global nature of his operation, but the news will hardly sit well universally. DP World's $6.8bn swoop for P&O last year led to a diplomatic dispute, after Washington forced it to sell the US ports it had inherited. The reason? It didn't want key harbours to be controlled by a Middle Eastern company. If things carry on this way, it looks like such concens may be out of America's hands in the future.