Dubai sneezes - and Britain catches a cold
News of the financial problems in debt-ridden Dubai has sent shockwaves through the markets today...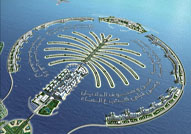 On the face of it, news that state-owned vehicle Dubai World has asked for a six-month 'stand-still' on its near-$60bn debts might seem a mere curiosity to those of us here in the UK – a cautionary tale of a small state that has fallen victim to its own over-reaching hubris. But actually, the prospect of a default has had very real consequences here too: this morning, shares in our banks have plummeted, because investors are worried about how much money they've been lending to Dubai, while the pound has plummeted against the dollar and the euro. The wonders of the globalised economy…

Dubai World, the government's flagship holding company, wants to put off all repayments on its $59bn debt pile until May next year, and has also appointed Deloitte to undertake a full-scale financial restructuring (now there's a nice gig). It has a $4bn Islamic bond that's due for repayment next month, and by the looks of it, it just doesn't have the readies. Like Britain, it's paying the price for a property boom fuelled by cheap debt (plus dirt-cheap labour from the Indian subcontinent) – but if anything it's been even more credit-crunched in the last two years, with property prices halving. So its problems don't come as a complete surprise.

But the reason this will be so damaging is that until now, Dubai has sworn blind that it would have no problem meeting its obligations; only this month, ruler Sheikh Mohammed told investors to 'shut up' when they dared to question where its money would come from (in fact the timing's odd generally, since it seemed to be coming out of the worst of the slump). So this will torpedo confidence in Dubai, making it much harder for it to raise funds in the future. Its 'economic miracle' days may be over, for the time being at least.

And although people have been arguing for ages that Dubai's incredible growth was unsustainable, that hasn't stopped British banks pumping cash into the emirate. Share prices have plunged across the sector this morning as investors fret about how much money the likes of HSBC, Standard Chartered and Barclays have been lending to the troubled state – given its estimated debts of around $80bn, the losses are potentially huge. With the bond markets also up in arms, and another sell-off for the pound today, it's clear that what happens in Dubai won't stay in Dubai...

In today's bulletin:
Come clean on banker pay, says Walker
Dubai sneezes - and Britain catches a cold
Editor's blog: There's a lot more grief in store for bankers
Big brands failing to cut carbon emissions
Talent level sky-high at Britain's Most Admired Companies launch