Dyson's current not-so-secret project is an electric car
Looks like that £1bn investment in batteries will be put to good use.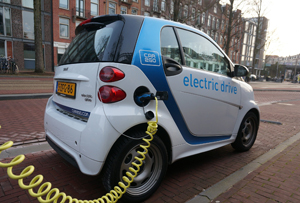 CEO Max Conze might have been trying to keep a lid on the extent of Dyson's innovation plans, but government documents appear to have let the cat out of the bag.
The tech firm, which has been branching out beyond its vast range of vacuums, has secured government funding for work on 'a new battery electric vehicle' at its headquarters in Wiltshire. After Conze confirmed Dyson would spend £1bn on batteries by 2020 earlier this week, MT did have an inkling, though he had been cagey. Last year Conze said Dyson was 'ruling nothing out' and like Apple 'are also unhealthily obsessive when it comes to taking apart our products to make them better'.
The firm's execs are likely to be feeling confident after Dyson's sales rose by over a quarter last year and profit was up nearly 20%. And there's no doubt it's becoming increasing well-regarded as a company when it comes to research and innovation. The government doc, within the National Infrastructure Delivery Plan, revealed the public funding and said it should be a boost to the area, securing '£174m of investment...creating over 500 jobs'.