Early delivery of profits for Royal Mail investors
Royal Mail shareholders are enjoying instant returns this morning but many would-be investors are left empty handed.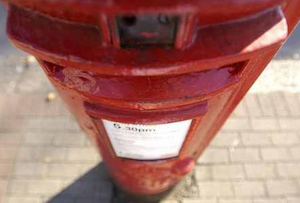 The day has finally arrived; one of the UK's oldest bastions of public service has been delivered into privatisation. The Royal Mail made its stock market debut this morning and, as anticipated, the share price has already soared, delivering split second profits to shareholders.

It has been just a few short hours since the bell rang on the trade of Royal Mail shares and they are already being traded at 33% higher than the privatisation price of 330p, at 440p. An eye-watering 22 million shares were traded in the first 3 minutes, 100 million in the first hour. Phew. The shares don't even become officially listed until Tuesday, they are only being traded on conditional dealings until then, which means trading volumes are likely to rise even further next week.
While many investors marvel as their stock price rockets, others are left bitterly disappointed. Around 40,000 people who applied for more than £10,000 worth of shares were left empty handed and baffled by Vince Cable's allocation strategy. The investors that were successful, bid for between £750 (the minimum) and £10,000 and all of those received 227 shares, worth £749.10 – leaving many with a lot less than they hoped for (still we can't see these people grumbling too much – they've already make a pretty packet and its only been two hours).

Vince Cable (described this morning by the Communications Workers' Union (CWU) boss Billy Hayes as 'one of the cleverest men in British politics') defended the allocation, blaming the oversubscription for the high levels of discontent. Around 800 institutions bid for £23bn worth of shares, making it seven times oversubscribed.

'That's because they've been very heavily oversubscribed,' he said.

'The objective of the exercise, which fits in with what we want for the Royal Mail, is to make sure it has stable long-term investors…But the one thing I was determined to ensure was that we should have good, committed, long-term investors, and I say for the most part these are pension funds and insurance companies who are managing the money of millions of British people.'

Pension funds are by no means the only ones gaining this morning. According to reports, private equity heavyweight Landsdowne Partners has taken a 'massive stake'. Sovereign wealth funds, such as those of Abu Dhabi, Singapore and Norway have also lucked out with allocations of an estimated £50m each.

Cable was also quick to play down the accusations (mainly from the Labour party) that the flotation price grossly undervalued the 500-year old company – therefore leaving taxpayers out of pocket. Shadow business secretary Chuka Umunna has called the sale a 'botched job' and many critics are now referring to it as a 'fire sale.'

'You get an enormous amount of froth and speculation in the aftermath of a big IPO of this kind,' said Cable earlier today.

'It is of absolutely no significance whatever. What matters is where the price eventually settles and if we look back at this in three months', six months' time, or indeed years to come, that's what we're really interested in.'

We guess only time will tell. But while the share price soars and this sale starts to look like a well-run piece of political machinery, it's worth remembering that the Royal Mail's pension fund liability now rests with the taxpayer. If it had still been attached to the company they would never have been able to get the float away.

Meanwhile there is still a chance Royal Mail workers will go on strike, voting in the strike ballot by the CWU ends on the 16th of this month. A strike could have an adverse affect on the share price, but with the majority of the Royal Mail's 150,000 workers now shareholders themselves (only 368 people refused the free offer of shares); they might not be too quick to damage their newly acquired nest eggs.