EasyJet to take £20m chunk of Flybe's Gatwick slots
Expect more orange aircraft at Gatwick in future. The no-frills airline has agreed to fork out £20m for 25 of Flybe's take-off and landing slots at the UK's second largest airport.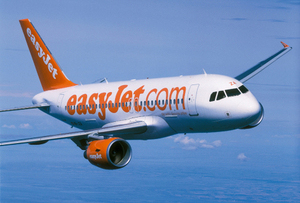 The sale has bumped EasyJet ahead of British Airways to become the top dog at Gatwick with an impressive 40% market share. The decision could be seen as a swipe at competitor Ryanair and its long-held dominance of Stansted. Easyjet is hoping to begin using some of its newly purchased slots next summer, providing even more flights to its favoruite destinations such as Alicante and Malaga.

Eight of the slots are early morning ones, at a special premium because planes which get off the ground at the crack of down work a longer day and earn more money than those which enjoy a more leisurely start.

EasyJet has had a party-popping month, with a spike in earnings thanks to Britain's sun-deprived revellers heading to warmer climes at Easter. This helped it to halve its 2012 interim losses from £121m to £61m.

Having joined the FTSE 100 back in March, EasyJet is now the second-largest budget airline by revenue, although it still has a way to go to catch the undisputed number one, Ryanair.

Spare a thought for Poor old Flybe though - slots are like gold dust at all the major London airports, but it says it is being forced to sell because of rising fees at Gatwick.

"It is the view of the board that the increase in charges, combined with the penalistic [is that even a word?] levels of Air Passenger Duty imposed on UK domestic airlines by successive Governments, have resulted in Flybe's services to and from Gatwick becoming unsustainable in the long-term," the company said.

The move is perfectly in line, however, with EasyJet's plans to expand its hold over airports with limited capacity – the details of which were revealed by CEO Carolyn McCall earlier this year. Apparently the company is also eyeing up some swanky new aircraft and is hoping to place a large order soon. This will no doubt incur the wrath of founder and major shareholder Stelios. who would prefer that the firm return money to its investors (ie him) instead.

The new has gone down well in the City however - EasyJet's share price jumped 4 per cent. Chocks away!
Read our EXCLUSIVE interview with Easyjet boss Carolyn McCall