EasyJet boss hits the eject button after Stelios spat
EasyJet loses yet another top exec following its recent strategy row - and this time it's CEO Andy Harrison.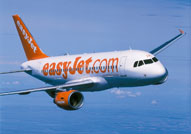 Yet more turbulence for easyJet: although it's been doing better than most big airlines this year, things have clearly not been right behind the scenes. Today it announced that CEO Andy Harrison will leave the airline next year to (you guessed it) 'seek new challenges' – meaning that five of the company's top eight suits have now quit in the last year. No reason was given for this surprise resignation, but it's hard to look past the recent row with the airline's founder and biggest shareholder Sir Stelios Haji-Ioannou over expansion plans. Even if they had seemingly reached a compromise, perhaps Harrison felt his wings had been clipped…

The spat arose over a plan – put in place back in 2002, way before Harrison started his tenure as CEO four years ago – to buy a load of Airbus planes. When the recession hit, Stelios (who still owns nearly 27% of the company) felt the company needed to scale back its expansion and concentrate on preserving cash for shareholders. He publicly criticised the strategy of the management, and even refused to sign off on the accounts. Which presumably didn't foster a particularly convivial atmosphere at board meetings…

The rest of the management team seems to have been united in support of the strategy. But even if Stelios was a lone voice of opposition, he was clearly a very powerful one, judging by the subsequent exodus. Chairman Sir Colin Chandler was the first to go, amid reports that he was 'fed up' with the whole situation (it can't be easy trying to run a board with the founder peering over your shoulder). FD Jeff Carr and two other senior directors followed close behind, and now Harrison is leaving too. Meanwhile Stelios has got his way, at least to some extent: a few months back they agreed to target a growth rate of 7.5%, rather than 15% as previously planned.

According to today's statement, Harrison's contract was amended back in May (when the dispute was in full swing) to make sure he stayed until at least the first quarter of next year – presumably to prevent another destabilising departure. Even now he's apparently agreed (no doubt at a price) to hang around until the end of next June, so the airline has plenty of time to find and appoint his successor.

So all in all, it's not surprising that easyJet's share price has plunged today. To lose one top boss looks like misfortune; to lose five looks like boardroom chaos. Sir Michael Rake may have been confirmed as the new chairman today, but the airline now needs both a new CEO and a new FD. And with Stelios lurking in the background, ready to put the kybosh on anything that doesn't meet his approval, we imagine a few prospective candidates might not fancy the prospect...

In today's Pre-Budget Report Special:
Darling hikes NI again - and hits banks with bonus tax
Editor's blog: Darling thinks small in Pre-Budget bore-fest
EasyJet boss hits the eject button after Stelios spat
Want a pay rise? Move to Romania or Kenya
A Life of Enterprise: The small print, or, Ernie and Edna