easyJet profits nosedive as fuel gamble back-fires
easyJet's profits may be down 65% - but things probably aren't quite as bad as they may seem.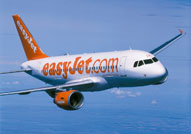 Admittedly, the headline number from easyJet's latest results doesn't sound great: full year profits plunged by 65% to £43.7m. However, this can largely be blamed on a badly timed punt on fuel prices – the airline ended up paying the best part of $1000 per metric tonne, when the market price was just under $600. And although it may still be lagging behind arch-rival Ryanair, easyJet is still making a profit at a time when most airlines are experiencing severe turbulence. So on closer inspection, it's probably in a better position than that profit figure suggests.

Numbers-wise, today's results were a mixed bag. Revenues were actually up 12.9% to £2.6bn, helping the company finish the year in the black (how other airlines, including BA, must wish they could say the same). There was good news elsewhere too, as easyJet increased capacity and market share at Gatwick, Paris, Milan and Lyon, after a successful campaign that targeted business customers. And as its ill-judged fuel deal comes to an end, easyJet will be able to take advantage of lower fuel prices – so next year's figures are going to look a lot better in comparison. Harrison also seems to have resolved the very public and embarrassing spat with founder Stelios Haji-Ioannou over the airline's growth strategy, so that's one less thing to worry about.

However, there was plenty of bad news in there too. Passenger numbers may be up, but the year-on-year rise is (by some distance) the smallest in the company's 12-year history. Equally, punters may not be too pleased to learn that this increase in revenue has been achieved via higher ticket prices and a rise in 'ancillary' income – a polite way of referring to extra money squeezed out via baggage charges, in-flight food and drink, and so on. And while it may be doing better than BA and co, easyJet continues to lag behind nemesis Ryanair in terms of both passenger numbers and profitability.

What's more, Harrison is predicting 'a tough winter ahead' – so it looks likely that the airline will have to slash seat prices to tempt bargain-hunting customers, hurting profit margins. easyJet is hardly a basket case, particularly by the standards of the industry. But Harrison still has plenty of work to do to get the low-cost carrier flying again.

In today's bulletin:
Vince Cable demands windfall tax on banks
EasyJet profits nosedive as fuel gamble back-fires
Britain has too many pubs, says Enterprise
'The worst storm in real estate history'
Lady Geek: Is technology different for girls?