EasyJet Profits Soar 51%
Giving passengers choices pays off, it turns out...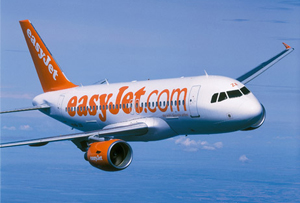 EasyJet is flying high: the orange airline's yearly pretax profits have soared by 51% to £478m. Making passengers' journeys that little bit nicer seems to have paid off – easyJet says its performance was boosted by allowing passenger to (gasp) choose their seats before they get on the plane.

'It's a nice, calmer boarding process,' chief executive Carolyn McCall told Radio 4's Today programme this morning. 'A lot of people have taken up the option.'

D'you hear that, other budget airlines? Passengers don't like the pre-boarding scrum - and they will vote with their feet: 4% more passengers flew with easyJet in the year to the end of September, a total of 60.8m.

Apparently allocated seating was particularly popular with business travellers and wealthy retirees (which makes up for having to keep designer sunglasses on for the whole flight to avoid being blinded by garish tangerine). Their willingness to hide behind dark lenses helped raise pre-tax profits per seat to £7.03, from £4.81 the previous year.

EasyJet is flying in a mega-dividend of £308m, with a special payout of 44.1p per share on top of the usual 33.5p. Perhaps that'll keep Stelios quiet for a bit as, with 36% of the business, the airline's founder will take home a tidy £111m.

Easyjet's rival Ryanair has also caught onto this whole 'being nice to your customers' thing: chief executive Michael O'Leary announced last month he will deign to let us carry a 'small' second piece of hand luggage, and slashed the fees for not printing boarding passes and putting bags in the hold.

Alas, it was too little, too late: the airline cut its full-year profit forecast to €500m (£423m) - €520m earlier this month, from the €570m it had predicted in September.

So what now for no-frills flying - a race to the top? MT has been dreaming of champagne in cattle class for years, but cutting charges if the printer-gods fail to bless you with your boarding pass pre-airport was a nice start...