easyJet reports sky-high profits
easyJet's profits are bang on target with pre-tax earnings at £248m. This means a £195m dividend payout for shareholders. Finally, something for Stelios to smile about.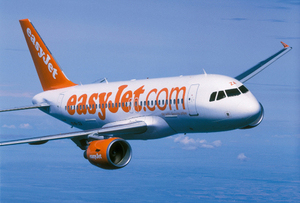 The budget airline has seen an 11.8% increase in passenger numbers this year. Corporate travellers have proved the biggest money spinner: an extra one million business passengers flew the orange wings this year alone. Pre-tax profits stand at £248m, up £60m on the previous financial year. This is despite a £100 million increase in fuel costs.

Spend per passenger is up as well, echoing Ryanair's results last week. Total revenue per seat on an easyJet flight is up 4.1% to £55.27.

Shareholders are now due to receive a dividend of 45.4 pence per share - a rather extravagant Christmas present. Stelios gets the lion share with a 38% stake. He's been bellyaching all week about his unfair treatment by easyJet stakeholders. Hopefully, this'll keep him quiet for a while. Although the windfall might also provide the start-up cash for his mooted new airline Fastjet (that's if he's managed to secure the trademark yet).

easyJet's forecasting a decent Christmas too. Despite the downturn, forward bookings are looking healthy: just under half of seats on flights over the Christmas period are now taken.

easyJet chief executive Carolyn McCall says: 'easyJet has made great progress this year. Our strong operational and financial performance is a result of the hard work and commitment of easyJet's people in delivering on our cause to make travel easy and affordable for our customers. The strength of easyJet's network combined with cost control and capital discipline means that easyJet is well placed to succeed.'
Surely that's a sentiment that even Stelios can agree with?