Easyjet revenues soar, Heathrow goes back to black
Shares in Easyjet dropped in late night trading yesterday, but the airline has surpassed expectations.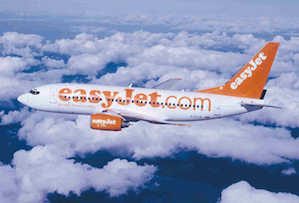 Poor Easyjet. Last night, shares in the airline fell by 51p as analysts speculated the heat wave in the UK would have kept passengers at home.

But the airline this morning surpassed expectations, posting second quarter results showing revenue rose 10.5% to £1.1bn. That, reckons Easyjet, will push full-year profits to £450m-£480 - ahead of analysts' £433m figure. Take that, naysayers.

Revenue per seat (a vital measure in the airline business) grew by 6.1% to £61.44, said the airline, driven by its 'Europe by Easyjet' campaign.
It also said it had 'secured its new framework arrangements for new aircraft through to 2022 to allow it to continue to execute its strategy' - which presumably means battles between its founder and main shareholder, Sir Stelios Haji-Iouannou and chief exec Carolyn McCall, have either been resolved or put off to a later date.
Share price was up more than 7% this morning to £14.33 - not bad going for McCall, who has seen prices rise from £4.32 since she took over in July 2010.