Easyjet row escalates as Stelios refuses to sign off accounts
As easyJet's profits tumble 45%, Stelios has ramped up the ongoing row with his fellow directors...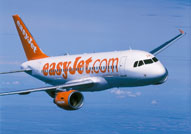 EasyJet founder Sir Stelios Haji-Iannou has turned up the heat in his row with the board, by refusing to sign off on the airline's latest accounts. Stelios has taken the remarkable step of adding a note to the bottom of today's results statement, criticising some of the policies employed by his own board. He insists that he has no ulterior motive and is just advocating a more prudent approach – but either way, the easyJet directors have clearly got a battle on their hands…
Sir Stelios, who still owns more than a quarter of the business, is particularly unhappy about some of the board's accounting policies, which he says are 'at odds with current commercial realities and the macro-economic climate'. Principally, he thinks they're wrong to treat the airline as a 'single cash-generating unit', rather than looking at particular routes and flights separately (as Ryanair does, for example). He also reckons they've ascribed far too much value to the Gatwick landing slots and the planes they acquired when easyJet bought GB Airways last year. However, the board insisted today that all the other directors – and auditors PwC – were perfectly happy with the current approach.
Stelios is also trying to have two of his loyal lieutenants appointed to the easyJet board, much to the other directors' apparent chagrin. And he's demanding that the company finally starts paying a dividend – this has led to scurrilous rumours that he's short of cash, which of course he has denied furiously (though given that the Cayman Islands, his tax haven of choice, sponsored last night's Niall Ferguson show 'The Ascent of Money' on Channel 4, they're clearly after some new money). 'It just makes good business sense for every properly-run, mature company to plan to pay a dividend to its loyal shareholders one day,' Stelios huffed today.