EasyJet share price nosedives amid Israel, Egypt and Russia turbulence
The budget airline's disappointing profit forecast is proof of growing pains, as it struggles to deal with geopolitics and increasing competition.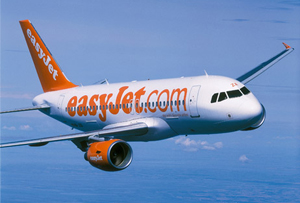 It had been looking like another stonking year for EasyJet with Carolyn McCall in the cockpit: passengers and profits were up, Ryanair's chief exec Michael O'Leary was not quite sticking to his vow of silence even after he'd decided to copy his tango-d rival in being nicer to customers and shares hit a record high of 1,853p in April.

Since then shares have tanked by 24%, as investors worried the budget airline's growth is slowing down even while it adds capacity. They then fell another 4.5% to 1,339p this morning, after plunging as much as 8% when the company's profits forecast didn't match expectations.

Profits in the year to the end of September will be £545m to £570m, EasyJet said, up from £478m the year before. But analysts surveyed by Bloomberg had been expecting £572m.

'This range includes the impact from the situations in Israel, Egypt and Moscow,' McCall said in a statement. The worst-case scenario would be profits hit by £10-15m, an EasyJet spokesperson said.

EasyJet's two flights a day to Tel Aviv are still cancelled, after a rocket fired from the Gaza Strip landed near Ben Gurion airport three days ago, even though the US has lifted its 36-hour ban on American airlines flying to Israel. Travellers are also shunning Egypt, amid continuing political unrest, as well as global bad-boy Russia, where EasyJet opened a route to Moscow just last year.

Keeping a company growing isn't always smooth, then. Once easier ways to expand have been nailed down – for low-cost airlines, the Spains and Italys of this world – it's the trickier options you're left with. EasyJet is also increasing its capacity at airports like Gatwick and Rome Fiumicino, but has warned that will hit 'yield' (through lower ticket prices or planes not being as full).

It wasn't all bad news for EasyJet: its revenue in the quarter to June 30 was up 8.6% year-on-year to £1.24bn, while passenger numbers and load factor (how full flights are) rose steadily and a cost per seat increase of 1% was better than it had forecasted. Nonetheless, it looks like the orange airline has to get used to political turbulence if it wants to keep expanding.