EasyJet shares climb 5.4% on profit forecast
Basking in the late summer holiday splurge, easyJet raises its full-year profit forecast by up to £55m.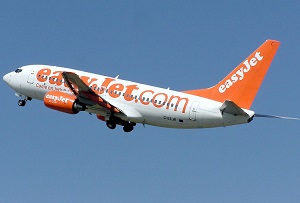 The warm, dry weather may be (long) gone, but the passing summer has kindly left two things to remember it by: a vicious plague of wasps and increased profits at budget airlines. Luton-based carrier easyJet raised its full-year profit forecast for the year to September 30 today to between £675m and £700m, up from £620m-£660m, sending shares up 5.4% to £17.62 by mid-morning.
Behind this cheery news is a late summer splurge in European holidays. Passenger numbers were up 6.8% to 7.06 million, making this the seventh consecutive month over 7 million, while the all important load factor rose 0.2% to a record 94.4%. On a rolling 12-month basis, easyJet has increased passenger numbers by 5.9% to 68.1 million.
The airline pointed to the strong pound (currently worth €1.36) convincing customers that a European break is worth it after all, though it might also be the result of real wages beginning to rise again.