EasyJet traffic up as it unveils ash radar
EasyJet is profiting from BA's woes - but is its new ash cloud avoidance system a worthwhile investment?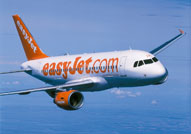 Two bits of good news from easyJet today: the budget airline saw passenger numbers jump 8% last month (thanks partly to BA), while it's also developed a new system that can spot ash clouds from up to 62 miles away, giving pilots plenty of time to change direction. EasyJet has already said that it's happy to share the technology with its rivals (presumably at a price), and the project also has the support of the Civil Aviation Authority. But we can't help wondering what Sir Stelios Haji-Ioannou makes of it all…

All things considered, May was a pretty good month for easyJet. A total of 4.25m people hopped aboard its planes last month, a sizeable increase from 3.95m in May last year. easyJet has BA's striking staff to thank, at least in part, for boosting numbers: it's estimated that BA lost 400,000 passengers last month, thanks to the ongoing industrial action. And they've got to get to their destination somehow, right? (Virgin has also supposedly enjoyed a big boost.)

The bad news for easyJet was that 1,600 of its flights were cancelled because of disruption from the volcanic ash cloud, costing it an estimated £75m in compensation. But the budget airline hopes such delays (and costs) will soon be a thing of the past thanks to its new gadget – a system that uses infra-red technology to allow pilots to see nefarious nebulae several miles ahead. The system has been given the green light by the CAA, and 12 planes will apparently be fitted with the technology by the end of the year. It's a nice idea, but we can't help wondering how much use easyJet's going to get out of them. After all, giant volcanic ash clouds aren't exactly ten-a-penny, are they?

Someone else who may take some convincing is easyJet founder and recalcitrant shareholder Sir Stelios, who has previously argued that easyJet should be returning cash to shareholders rather than (for example) spending it on new planes. So what will he make of the airline forking out for a whizzy new gadget that might not get a great deal of use?

In today's bulletin:
BP to risk US wrath by not cutting dividend?
Will the Sun come out for Richard Desmond?
EasyJet traffic up as it unveils ash radar
Banks 'have not served enterprise in this country', says Cable
No way to get rid of a manager