EasyJet's dividend takes off thanks to profits jump
Despite Stelios' antics, easyJet has doubled the size of its dividend after profits jumped by almost a third.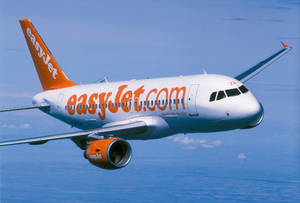 The second-largest low cost airline after Ryanair has doubled its dividend from 10.5p to 21.5p per share after reporting pre-tax profits of £317m for the year to the end of September. That's a 28% profit increase compared with the previous year, on revenues that were also up 11.6% to £3.85bn. Chief executive Carolyn McCall said the results prove that easyJet is a 'structural winner in the European short-haul market', announcing that the total dividend pool will increase from around £41.5m to £85m.
Easyjet, which is the largest airline at Gatwick airport, puts the increases down to a sudden surge in holiday demand for Malaga and Alicante at the tale end of the summer months. Customers were no doubt sick of all that rain and took a last minute jaunt in search of some sun. But the sudden surge doesn't mean the profit-jump is one-off: the airline also increased the number of flights between the most popular business destinations throughout the year, providing a sustained increase in revenues. The firm's strategy is focusing increasingly on corporate customers, who tend to spend more on flexible tickets instead of going for the cheapest possible deal like their leisure/tourism counterparts.
And if you fancied any more stats: passenger numbers rose 7.1% to more than 58 million; load factors (how full the planes are) rose 1.4% to 88.7%; and profit margins grew 1% to 8.2% even though fuel costs increased by £182m in the same period. That's a bit of number overload, but you get the point. And as you might have noticed, these latest results mean that easyJet is bucking a wider trend in Europe. Earlier this month, International Airline Group's (IAG) Spanish carrier, Iberia, revealed plans to reduce its workforce by a quarter, and Spanish outfit Spanair and Hungarian flag carrier Malev have shut down altogether.