eBay hits government with 'Mobile Manifesto'
eBay is up in arms over m-commerce. Mobile broadband is just too slow for consumers, says the online auction giant.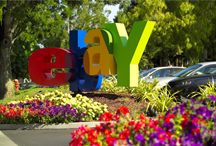 And it's not just eBay in a froth over mobile sales. There's a whole pantheon of retailers, trade bodies and consumer groups backing the motion.

Earlier this year, eBay, in conjunction with research agency Populus, did a spot of research. It asked 2,000 mobile users what they made of the current online m-commerce experience. Unsurprisingly, 45% were dissatisfied with the speed at which they could download mobile data. There are too many time-outs, frozen screens and lost connections, they say. While the slow-creeping 'loading' bar of doom is the bane of every commuter in the land.

The Mobile Manifesto calls on Ofcom to speed up the roll-out of 4G and prioritise improving mobile internet coverage on transport routes. This last point is key: the research showed that one third of consumers shop on their phones while travelling.

This issue has already been raised this week. At the National Business Awards earlier this week, Everything Everywhere boss Olaf Swantee warned the Chancellor George Osborne (also speaking) that the UK could fall behind other countries if more urgency isn't shown on the 4G front.

'Access to data is no new thing, but, for us, this evolution to the new internet requires a step change in enabling technology,' he said. 'A new technology that will see faster data speeds, reduced waiting times, and an increase in capacity and coverage that will benefit everyone. Fourth Generation mobile telephony, as it's known, is critical to the creation of tomorrow's business infrastructure.'

In a highly competitive telecoms industry, the players are all uniting under eBay's banner. 'We stand with eBay in calling for the European Commission to cap wholesale data charges,' said David Dyson, CEO of mobile network Three. But while there's no doubt that it's in the interests of the UK economy to boost mobile broadband - more mobile shopping means more money for businesses and ultimately more tax – the issue remains: Where will the money come from to effect change?
Perhaps eBay would care to put its money where its mouth is?