eBay leads the pack as UK online sales hit £50bn
eBay and ASOS post storming results today amid news that the online retail industry enjoyed a 14% sales increase in 2011.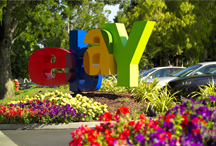 Bankruptcy may plague the high street but, in the online world, it's a different story. eBay's results, out this morning, show a staggering 354% jump in like-for-like profits in the final quarter of 2011. In just three months, the auction giant earned $1.98bn (£1.28bn).

Hang on a minute. Taking a closer look at the results, it's clear that it's not trading that's provided the boost. There's been no sudden hike in fees. No stratospheric leap in sales. Ah, the lion's share of the loot came from the sale of eBay's remaining stake in Skype back in May. Microsoft's $8.5bn for the last chunk cleared in October.

Still, even without the Skype sale, eBay had a cracking 2011. Excluding Skype cash, profits for the quarter hit $789m, a 41% increase on the $559m pocketed in the same period in 2010. Full-year profits stand at a cool $3.2bn. 'We had a strong fourth quarter finish to an excellent year,' said eBay president John Donahoe.

Also reporting an 'excellent year' is online fashion retailer ASOS. UK retail sales grew 10% in the UK over the three months to December 31 last year. Think that's pretty good? International sales jumped a massive 93%, taking total retail sales to £146.5m. That's a 46% increase on the previous quarter. Looking at the year as a whole, 2011 saw ASOS trouser revenues of £339.7m, up from £223m in 2010. Gross margins stand at 38.8%.

These online bonanzas are out on the same day that group buying site Kelkoo releases a new report, showing that online sales in the UK hit £50bn last year. The sector is growing at 14% year-on-year, according to Kelkoo's data, with the same growth forecast for 2012.
The report also shows that online shoppers spent an average of just under £1,500 each on 39 items last year, with internet retail trade accounting for 12% of their total spending. And the UK is leading the online charge in Europe, said the report.
Of our European neighbours, Germany boasts the second highest online retail market share: 9%. Other big hitters include: Switzerland (8.7%) and Norway (8.1%), while the lowest were in Italy (1.3%) and Poland (3.1%).