Ebbsfleet: power to the people
To be honest, we'd never heard of Ebbsfleet before this week, when it opened for business as the first stop on Eurostar's new high-speed rail link from St Pancras. So that's one thing we probably have in common with the new owners of its local football club, which is about to become the first in the world to be managed by a group of fans over the internet.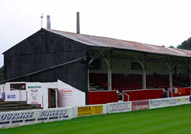 Back in May, Eurostar persuaded (well, paid) the local club, Gravesend & Northfleet, to change its name to Ebbsfleet United in order to publicise its new station. And this week – with timing that the cynic might suggest is a little too coincidental – the move has paid off in a big way. The obscure non-league side has generated some major column inches after agreeing to be bought by myfootballclub.co.uk, a website which has raised £700,000 by getting fans to cough up £35 in exchange for a vote on all decisions relating to their club.
Believe it or not, Ebbsfleet (and the other dozen clubs previously under consideration) approached the website of its own accord – which means that the owners actually wanted to flog their club to several thousand complete strangers. That's what the lure of publicity will do to people. Although since the main attraction of Ebbsfleet seems to be its 2,500 parking spaces (judging from Eurostar's website), perhaps they need it.
The users of the site will get to vote on all the club's decisions, from coaching to tactics to team selection, and a computer will calculate the consensus view – like video game Championship Manager writ large. So it could be an interesting exercise in direct democracy, particularly since most football fans like to think they could manage their team better than the current incumbent.