Ecclestone still in F1 driving seat as Walsh walks away
Ex Diageo boss Paul Walsh has reportedly walked away from the chairmanship of F1, leaving Bernie Ecclestone victorious once again.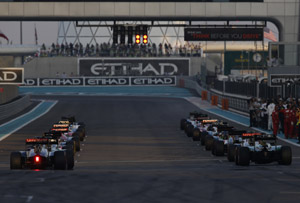 Paul Walsh has ended speculation over a possible new role as chairman of F1, so Bernie Ecclestone remains in charge - for now. It's by no means the first threat to his stranglehold control of Formula One that the 84 year old Ecclestone has seen off, but backed as it was by 35% shareholder CVC, it is one of the most credible. If nothing else he has proved that sometimes the old dog doesn't need to learn any new tricks, because he knows the best ones already.

So, what of Walsh? Well for a start if he was hoping that these negotiations could be conducted in relative privacy then he was mistaken. But has the FTSE 100 big hitter been been left with egg on his face by conceding victory to Ecclestone?

Some will say yes, but we're not so sure. Bernie has run F1 since the 70s, in fact he created the modern Formula One circus more or less from scratch. Having been briefly a driver and then a team manager, he realised that the real money was in TV rights and for most of the ensuing 4 decades cast not so much as a glance in the rear view mirror as he raked in the billons.

But now he is seen by many as the major stumbling block to F1's future. According to the BBC, VW/Audi - the world's second largest carmaker - is considering an entry into F1, but not while Ecclestone remains in charge.
In order to take such a formidably-entrenched character on, any incoming chairman would have to be very sure of absolutely solid support from shareholders, in this case US private equity outfit CVC and its boss Donald Mackenzie.

Since it seems that CVC lost its nerve at the last minute and the issue of a new chairman was not discussed at Last Friday's board meeting, one can hardly blame Walsh for raising an eyebrow and returning to the pits. A source close to Walsh told the FT this morning that, although he would have been happy to work alongside Ecclestone, he wasn't sure that CVC would give him the backing to run F1 as he saw fit.

Justin King, ex Sainsburys CEO, has also been tipped as a possible F1 saviour, but that now looks unlikely. Unless it can find the will to tackle Bernie head-on, CVC is going to struggle to persuade any more grand fromages to take the job on, either.

Which leaves Ecclestone to take the chequered flag once again, apparently laps ahead of the competiton. His tactics may have come to seem increasingly desperate - at the weekend he put forward his lawyer, Sacha Woodward-Hill, as a potential new CEO of DeltaTopCo if he were to stand down, but admitted he hadn't so much asked her if she would even want the job. There are also his famously curmudgeonly views on young people, about whom he says F1 doesn't need to worry about because they have 'no money anyway'. But thanks to his cunning and sheer determination not to go without a huge scrap, he has faced down all comers, once again.

So if anyone's got egg on their faces, it's CVC. Having loaded and aimed what looked like a Big Bernie-Blasting Boardroom Bazooka, when they pulled the trigger it turned out to be more of a popgun. That IPO in Singapore looks as far away as ever. Still, they have managed to take some $8bn out of F1 in the past few years so we shouldn't feel too sorry for them.

Non of which is much consolation to the teams, fans or sponsors of F1, who having got revved up for the arrival of a new broom are now facing more of the same - leadership squabbles, declining audiences and mounting money woes. As one despondent unnamed team boss said today 'We are all back where we started and it looks as though nothing is going to change.'