Eco-activism and the Stuart Oil shale project
The Stuart Oil Shale Project, an Australian-Canadian joint venture centred on oil exploitation in the state of Queensland, became a target for a high-profile campaign of eco-activism. This case study discusses how the government, project partners, oil companies and other stakeholders reacted when confronted with a choice between economic development and the protection of the environment.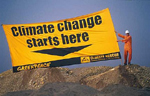 While global primary energy is currently reliant on fossil fuels, it is widely accepted that, given the growth in energy consumption worldwide, associated environmental and social problems will worsen unless demand is met using cleaner, safer and more efficient energy technologies.
Oil shale is a 50 million-year-old sedimentary rock that contains the hydrocarbon component of oil in an organic solid form, which requires heat to be liberated. The significant oil shale deposits in Queensland, Australia, contain an estimated 17 billion barrels of oil equivalent.
This explains why the Stuart Oil Shale Project was so generously supported by the Australian government, which also saw the potential for job creation, both direct and indirect. What it did not foresee, however, was that the project would become the centre of a public debate about the conflict between energy security from a national perspective and climate change on a global level.
With much of the Great Barrier Reef off the coast of Queensland seeming to be at risk due to global warming and the resulting increase in ocean temperature, the location of the Stuart Oil Shale Project intensified environmental concerns and prompted fears that it could negatively affect tourism and the fishing industry, as well as public health.
One of the project partners, Southern Pacific Petroleum (SPP), argued that the oil shale industry could provide a bridge to meet modern energy needs until a cleaner source of fuel could be developed. To mitigate the associated carbon dioxide emissions it proposed a massive tree planting exercise as well as sequestering carbon dioxide in the earth's crust.
Conversely, Suncor Energy, a pioneer in the development of oil sand exploitation in Canada which had helped support the development of the greenhouse gas emissions trading agreement, pulled out of the partnership despite considerable investment in the demonstration plant. Oil companies such as BP, Caltex and Shell - all claiming to be committed to sustainable energy - likewise distanced themselves from the project.
For Greenpeace, the evidence that global warming was threatening reef and ocean life made the project a target of a major pro-environment campaign. Not only did it bring the impact of global warming to the fore but it also inspired a debate over government subsidies for fossil fuels and the growing lobby in favour of sustainable energy policies. Greenpeace initiated direct action against the Stuart Oil Shale Project, blockading deliveries, boycotting partners, publicizing protests and pressurizing all parties involved until it was ultimately shut down in 2004.
Case Study: Eco-activism: Greenpeace, the Oil Industry and the Stuart Oil Shale Project in Australia
Renato Orsato, senior research fellow at INSEAD, and Kes McCormick, research associate at Lund University's IIIEE
INSEAD 2006