Eco-friendly paint scoops the prize at Green Business Awards
This year's Green Globes awarded to eco-friendly paint, recycling projects and wind turbines at home.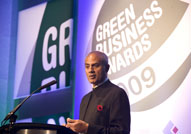 It's not often that we get excited about paint. But there is an exception to every rule, and on this occasion it's down to ICI Paints AkzoNobel, which walked away with the gong for green product of the year at the MT/ENDS Green Business Awards 2009 at a prestigious ceremony in central London last night. Painting your front room with this stuff – called Dulux Light & Space - isn't like giving it a fresh coat of magnolia: it reflects more light, so you need fewer and smaller lightbulbs, thus saving you money on your electricity bills. Watching paint dry has never been so exciting.

The Green Business Awards – now in their third year – are rapidly establishing a name for themselves as the most rigorous and stringently judged gongs in the eco-world. This year the process was made even more thorough, with a judging panel of over 30 industry experts and a new carbon emissions benchmarking framework courtesy of ENDS Carbon.

Other lucky winners to receive their accolade from master of ceremonies George Alegiah included British Gas for its green marketing tactics, Tube Lines for its water management scheme and property company Bovis Lend Lease, which won in the overall environmental management category. Norwegian-headquartered company DNV walked away with the prize for HR and employee engagement, after the success of its 'We Do' project - the company has set aside NOK40m (£4.2m) to help staff 'green' their homes. DNV's lucky UK employees are given up to £900 each, which they can then spend on personal domestic eco-projects such as solar water heating systems, wind turbines and recycling initiatives. That's putting your money where your mouth is, alright.

The ceremony was even better attended than last year's, proving that those who thought that the green agenda would never make it through the recession were well wide of the mark. These days, you can't afford not to engage with the environment, and the Green Business Awards are the ultimate accolades for those firms which really do.

In today's bulletin:
Unions rejoice after GM U-turn on Vauxhall sale
Marks & Spencer takes a punt on Marmite to lift flat sales
Eco-friendly paint scoops the prize at Green Business Awards
Editor's blog: Dealing with Britain's fall from grace
A rail ticket from Newquay to Skye? That'll be £1,000, please