Economy depends on entrepreneurs, says Prime Minister
David Cameron says Global Entrepreneurship Week is a 'fantastic opportunity' to promote growth. But businesses may prefer something more concrete...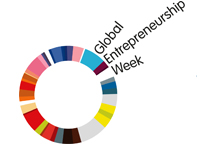 Next week is Global Entrepreneurship Week – the annual celebration of entrepreneurs and their contribution to the economy. David Cameron has already taken the opportunity to throw his weight behind it, calling it a 'fantastic opportunity' to enthuse the next generation about the idea of owning their own businesses. He even went as far as to say that the 'future of the economy depends' on entrepreneurs. A nice sentiment, but businesses don't seem quite so convinced that they're getting the support they need to grow. Time for the Government to start putting its money where its mouth is?
GEW (which originated in the UK but went global a couple of years ago) will this year see more than 10m people in 100 different countries take part. In the UK, where the celebrations will kick off at Google's headquarters in London with speakers including Coffee Republic founder Sahar Hashemi and the omnipresent Peter Jones, more than 36,000 events are planned. GEW's organisers say they're keen to use the week to show that some of the old myths about entrepreneurs, like the idea that they're 'born not made', or that running a business is all about profit, aren't true.
But while putting its voice behind business is one thing, there are signs that entrepreneurs still don't feel the Government is doing enough to help them grow. Yesterday, the British Chambers of Commerce said the private sector still doesn't feel that it's being given enough opportunity to help create new jobs for those who lost out during the spending cuts. Dr Adam Marshall, director of policy at the organisation, said stripping away some of the 'burdensome' red tape around employment would be a good start. 'Businesses will take it from there, and train up the specialist workforce they need to deliver growth,' he added.