Ed Davey: Energy customers are 'not cash cows'
The Energy Secretary says gas and electricity customers are not just 'cash cows' as two more energy firms put their prices up.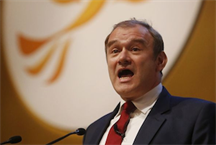 Liberal Democrat minister Ed Davey has compared the UK's big energy suppliers to greedy bankers and says they face a 'Fred the shred' moment as customers get fed up with rising prices.

In a speech at the annual industry conference EnergyUK, he will say: 'Trust between those who supply energy and those who use it is breaking down. It is so difficult for people to work out what exactly they are paying for, that they fear the big energy companies are taking them for a ride when bills go up.'

The breakdown in energy companies' reputation is now being compared by some to the banker bashing which took hold after the financial crisis and eventually saw former RBS CEO Fred Goodwin stripped of his knighthood.

In the past few months many of the UK's biggest energy firms, the so-called 'big six', have pushed up prices above the rate of inflation. This morning, energy suppliers E.ON and EDF announced rises of 6.6% and 3.9%, lower than the average 10% hike imposed by the rest of the Big Six. Last month British Gas said prices for its dual-fuel customers would go up by 9.2%, Npower raised the average bill by 10.4% and Scottish Power said bills would go up 8.6%.

But Ed Davey accuses energy firms of putting more pressure on customers, despite the fact that wholesale prices are barely increasing. Ofgem data suggests that wholesale combined electricity and gas have risen by just 1.7% over the last year.

'Profits cannot come at the expense of the elderly, the vulnerable, and the poorest in our society. Customers are not just cash cows to be squeezed in the pursuit of a higher return for shareholders,' he will say.

EnergyUK has said that the profit margins of the big six are about 5%, which are justified to pay for 'extremely large' investments necessary in their businesses. But critics say that while this is likely to be accurate for the domestic arm of the business, the profit margins for the electricity generation parts of the companies are much higher. Davey says the big six need to be more transparent about where they make their money in all parts of the business.

The comments come after accusations by Labour, which has pledged to freeze energy prices for almost two years if elected, that the coalition has failed to take the side of the consumer.