The Eden Project wants to raise £1.5m through crowdfunding
The home of Cornwall's big white domes is launching a mini bond crowdfunding round.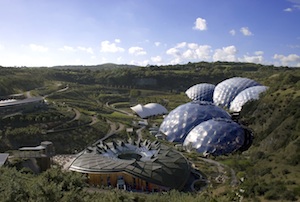 The Eden Project, home of Cornwall's striking giant greenhouses, has turned to crowdfunding today to raise money for a new educational project. The charity hopes to raise £1.5m by selling mini bonds through the Crowdcube platform.

Launched in 2001, the site famously hosted one of the charity Live 8 concerts in 2005 and even appeared in a James Bond film. It ran into difficulty in recent years and had to make dozens of staff redundant in 2013, but appears to have turned a corner, reporting a £2m trading surplus for 2013-14 in June, and plans to begin recruiting again. It has received some Government funds but generates most of its income through trading.
It now wants to invest in a collection of old farmhouses on the edge of the former quarry where it sits to turn them into education centres focused on horticulture, food production and cookery.

'The Eden Project Bond has a very simple idea at its heart – investors loan money to us, we agree to pay them interest annually and repay the initial investment when the Bond matures in four years' time,' said David Harland, an executive director at Eden.


'We hope that people will join us on this exciting journey to create a fantastic educational facility. When complete, the learning village will give young people the chance to study and work in very special surroundings within the Eden Project.'