Editorial: Raise a glass to Britain
If you are unfortunate enough to spend your days ingesting nothing but a fear-filled diet of the Daily Mail, you could be forgiven for thinking Britain is well and truly broken. Here at MT, we don't agree.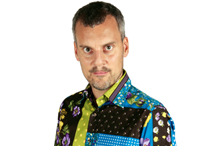 This autumn may not have been the most uplifting of seasons - with the grim reaper of public sector spending cuts stalking the land, together with the economy looking as if it may be heading for another serious slowdown - but the country is not falling to pieces.
We are going to have to put this paralysing negativity behind us before it begins to have deleterious effects and we all wind up as miserable as a roomful of Finns in December when the vodka has run dry. With such a lot of questioning and re-evaluating going on, there can be no better time to attempt to establish what are our most promising assets and strengths and then try to capitalise on them.
We chose Paul Smith for our MT interview because he's a truly durable Brit businessman. He has built his empire slowly but methodically, ignoring the enticements of fast-talking financiers who would have put him on the road to ruin. In a sector filled with fly-by-nights, tantrums, tiaras and hopelessly unrealistic business models, Smith stands out as a winner. He's also delightful company, as I once discovered when he took me for a spin in his 1956 Bristol 405 and we nearly got arrested. But that's another story.