EDITOR'S BLOG: Cameron's scolding falling on deaf ears in Sri Lanka
There's more than a faint whiff of hypocrisy about the PM's Sri Lankan offensive, argues Matthew Gwyther.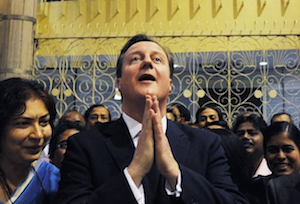 Marco Polo called Sri Lanka the finest island in the world. But its government and Prime Minister are taking a reputational pasting at the moment led by the unlikely combination of Channel 4 News and our Prime Minister David Cameron. The Commonwealth Heads of Government Conference is being partially derailed by a publicity onslaught attacking the country's unsavoury human rights record.

Cameron has gone out of his way to reproach the Sri Lankan Singhalese regime and heading for Jaffna in the North to meet the Tamils has incensed the government even further. Some have suggested that if he thinks things are that bad in Sri Lanka why didn't he boycott the whole affair rather than turning up in Colombo and publicly peeing all over their party.
Keheliya Rambukwella, the country's communication minister, doesn't enjoy being lectured by an Etonian representative of the former colonial power. 'We are a sovereign nation. You think someone can just make a demand from Sri Lanka. It can be a cordial request. We are not a colony. We are an independent state.'

I once spent half an hour interviewing Sri Lanka's PM Mahinda Rajapaksa in Colombo and I wouldn't go out of my way to get on the wrong side of him. He's big, scary and wears sandals. The kind of guy who names the country's new international airport after himself.

His response to the lectures has been unbending. 'We in Sri Lanka are stepping into a new era of peace, stability and renewed economic opportunities that have long been denied to my people due to the menace of terrorism that existed for nearly three decades. In ending terrorism in 2009 (when the civil war with Tamils in the north ended) we asserted the greatest human right of all - the right to life. I'm happy to say that in the last four years there has not been a single terrorist-related incident anywhere in Sri Lanka.'

With an economy of only $64bn – of which 10% is money sent home by workers abroad - Sri Lanka is quite a small fry target for this sudden outburst of British government human rights concern. (Its profile has been raised because it currently holds the Chair of the Commonwealth nations.) One feels sure somebody in the Foreign Office has done a quick cost benefit analysis and risk assessment of this publicity offensive and decided that, on balance, it would not do us too much harm commercially.

This is, of course, the height of hypocrisy. Such megaphone diplomacy would not be used on the unsavoury regime in Saudi Arabia or, for that matter, Russia. Both commit abuses of human rights but are of far greater economic significance to the UK. And we do have notable commercial interests in Sri Lanka. British tourists travel there in ever-increasing numbers now that the armed conflict is over. The textile industry is growing. Gems and tea are still notable exports.

More importantly Sri Lanka, now the civil war is over, has the potential to grow very fast indeed. It's an easier place to do business efficiently than India and has high levels of literacy. As in Burma – hardly squeaky clean when it comes to harsh behaviours towards minorities - there are many opportunities for UK business.


The way in which the civil war was brought to an end in 2009 was grim and bloody. Atrocities were clearly committed by the Sri Lankan armed forces. The Tigers were no pussy cats - the FBI described them as 'the most dangerous and deadly extremists in the world' - and in deciding to bring the 26 year war to an end, extreme violence was used. But Rajapaksa has been very poor indeed when it comes to winning the peace.


The Chinese have fewer scruples about human rights. They got in very early in Sri Lanka and are now very thick with Rajapaksa. They financed and helped build the new expressway from the airport into Colombo and are building the largest tower block in Asia in the capital. The Sri Lankans are also keen to turn their country into the gambling mecca of Asia – Kerry's Packer's son plans a $400 million casino in Colombo - and the Chinese, always fond of a flutter, will not be unenthusiastic about that, either.
Hopeful British companies may have to lie low for a while or emphasise their Scottish or Welsh-ness.