EDITOR'S BLOG: Muslims, migrants and a merry Christmas
This M&S Islamic till jockey refusenik story is veritable meat (pork) and drink (champagne brut) to the likes of the Telegraph and the Daily Mail. When are we going to realise migrants are helping the recovery?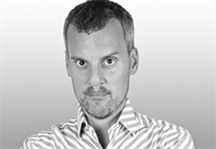 It does make one despair that with the Christmas just upon us and Mandela barely cold in his grave such a whipped-up froth of small-minded bigotry gets so many column inches. It's gone bananas even on the Guardian's website where numerous comments have been taken down for reasons of common decency. Andy Street of John Lewis has attempted to twist the knife in M&S's side and Richard Dawkins has had a Tweet. The whole thing is almost as depressing as the inability of the Northern Irish to get over fighting about flags a full 15 years after the Good Friday agreement.
The punters have been falling over each other to get onto the Telegraph and Mail websites to make fulsome outraged comment. M&S customer Matt Syson wrote: 'If you have Christian workers who wish to refuse the sale of ladies' garments to male homosexuals or men's trousers to lesbians, I do hope you will stand by those workers' religious or personal beliefs. My family and I shall no longer purchase any goods from your company due to the implementation of this "one rule system" that creates further division and hatred within our communities.'
The truth is, Matt, that any hate problems are entirely yours, being the kind of Little Englander who clearly thinks all girls should wear skirts. It's poor old Marks and Spencer I feel sorry for as they may actually have suffered a bit as a result. I suspect the unusually squeamish young Islamic woman is normally kept off the food/booze till through an informal arrangement but there was a slip up.