EDITOR'S BLOG: Stop apologising, Auntie
The BBC. Time to stop saying sorry, stand on its own feet and wash its own pants.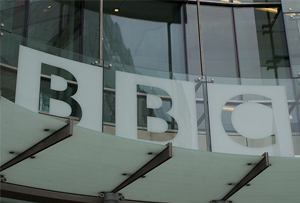 Not all of us out here hate the BBC. Most would be bereft without it. Those of whom you are most fond can often cause the most exasperation. I'll even endure the dire, comedy-free rants of Marks Steel and Thomas in exchange for a helping of Today and TMS. Ok, so the BBC's tax-payer funded massive presence has screwed things up pretty royally for the rest of us in the privately owned media in the UK but we learned to live with that years back. And, anyway Rupert and Sky showed you can take on the Beeb and leave it vanquished on the canvas, certainly in the area of live sports broadcast.
Many have watched with disbelief as the BBC plays out its agonies in public over everything from Saville to McAlpine. The Daily Mail can hardly believe it has so much anti-Christ ineptitude handed to it on a plate. But two stories this week show how the BBC still really needs to get a grip. First, the harsh criticism from the National Audit Office for paying out £25 million in wildly extravagant severance payments to 150 senior BBC managers. The top 10 payments in the three years to December 2012 accounted for 20% of the total and the deputy DG got almost a million pounds. Someone in HR was an impossibly soft touch. A sheepish director general Tony Hall said: 'These payments were from another era and we are putting a stop to them.'
Then there was the grim revelation that it has coughed up £175,000 on yet another report that shows it has a 'deep liberal bias' on the subject of immigration. Well, blow me down. That has to be the biggest scoop since Woodward and Bernstein brought Deep Throat to the world.

The BBC is currently low on confidence, feeling it is being got at from all sides. Staff morale isn't high – especially if you're stuck in the wasteland of Salford - and standards have become pretty iffy on occasion. But it really has to draw a line in the sand and then get back onto the front foot, if you'll pardon that unforgivable mixture of metaphors. No organisation since the Middle Ages has the ability to do anguished public self-flagellation like the Beeb. (Murdoch growls and curses about the rozzers and The Establishment behind closed doors at Wapping while being secretly recorded by his staff) At its worst the BBC behaves like a bunch of devout believers wandering around in their hair shirts during the Black Death blaming themselves for everything including the fact that the sun won't come out.

And no organisation is so good at insisting on fee-hungry lawyers or third rate retired civil servant-led inquiries into what it's done wrong. You should not need this. One of the jobs of management is to identify and understand the errors made by the organisation and then do something about it. That is what leadership is. (Admittedly it made a total hash of this over Jimmy Saville but you cannot stop trying.) You must not keep going to outsiders to sniff over your dirty washing for you and then recommend Persil rather than Ariel. Especially when all the rest of us are paying for the process.

It has been poorly led but now has a chance, with a clutch of new senior leaders, including a capable DG to make a new start. James Harding who was kicked off The Times by Murdoch has become head of news and is highly able. His first utterance was: 'The BBC has rightly made its fair share of apologies over the past year. I don't want an apologetic BBC, I want an ambitious BBC.' This has to be right but that ambition will only come when the house is more ordered, focussed and stable.

There is much to fight for and ground to be won. Channel 4, for example, has degenerated into a perverse, petulant and crassly formulaic shadow of its 80s and 90s self. It's a shameless broadcaster that believes 'Embarrassing Bodies' and the lingering close-up of swollen haemorroids and other below-the waist horrors justifies its state-subsidised, public service remit.

Some halfway decent drama other than soaps and more new blood on the news and current affairs front at the BBC would not be a bad idea. If that means leading some of those old dinosaurs like Humphreys, Paxman and John Simpson out to grass then so be it. At their worst they provide rather too much blustering heat and too little light. Broadcast stars should emit both if they wish their employer to regain its one glowing position in the firmament.