EDITOR'S BLOG: The unmanageable Kevin Pietersen
Managing superstars is tricky, says Matthew Gwyther. As England batsman Pietersen demonstrates, you can bend the rules for them - but when things go wrong, they go very wrong indeed.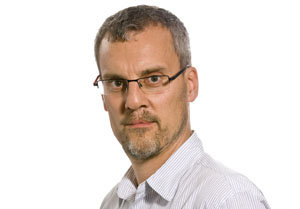 So how would you manage Kevin Pietersen? Assuming you decided not to take the final step of calling him in to Lords to deliver the Spanish Archer (El Bow), a signed bat from his team mates and a P45, how would you keep him onside? Because the ECB has clearly decided that he is unmanageable and that, after struggling to accommodate, encourage and even maybe cajole him, it has had enough.

The superstar batsman, the unpublished charge sheet reads, doesn't listen, is a bad influence on those around him and is scornful of authority. He plays for himself rather than the team and shows precious little in the way of loyalty. The problem is that he's just become too big to handle – an elephant in the dressing room. But it's the cricket that got small, yell the likes of Piers Morgan.

Peter Oborne in today's Telegraph goes as far as to condemn Pietersen as 'a manifestation of the unqualified victory of neo-liberal market economics'. A triumph of money and selfishness over what used to be a team spirit born of devotion to the flag. I can see what he's getting at but the money in sport is here to stay and British sport has done well in attracting talent from abroad. We aren't going back to the likes of KP arriving on the bus at The Oval having whitened his own pads, with a cheese and cucumber sandwich and a flask of tea in his knapsack. (And when it comes to crass monetary excess, football wins out over cricket each and every day.)

I'm normally cautious when it comes to drawing parallels between and extracting 'learnings' from sport to business. But the issue of how you deal with superstars in the office is a tricky one. The conventional wisdom is that because you recognise a team takes all sorts and you welcome the disproportionate value they create, you accept stars are not like average operatives and need to be treated differently.

A certain amount of rule-bending and swaying in the tempestuous winds of their talent is called for. They require excess massage for their often delicate egos. They can be very demanding of management time and insist on a corner office. They can piss off those lesser mortals around them. They frequently expect much in the way of financial reward – especially in the vampire squid depths of investment banking. But you recognise – to use a military analogy – that a single Achilles is worth several dozen run-of-the-mill foot soldiers if you really want to carve up the opposition in the market.

However when superstars misfire things quickly get awkward. Their shortcomings are highly visible. Apart from his questionable influence on team mates, we have the central issue of Pietersen's performance. He's simply not very good with the bat at the moment: he has averaged 33 in his last 22 test innings. And he's only managed four hundreds in the last 48 innings since 2011. The antics are tolerable when smiting the Aussies and carting the ball out of the park day after day but when he gets out with the sort of moronic shots he was playing in the recent dismal tour Down Under, enough is enough. And his 'well that's the way I play – like it or lump it' excuse isn't acceptable. It would cut no ice at Goldman Sachs.

Maybe it's true what they say in the film 'Bladerunner' of the super-human replicants: 'The light that burns twice as bright burns half as long'. And Pietersen's has been a sputtering flame of late. In the meantime, here are our thoughts on how to keep bright sparks motivated. We shall email a copy to captain Cook as he goes in search of more willow-wielding genius.