EE moves into TV - watch out BT
The mobile network's EE TV box will connect with smartphones and tablets and provide programmes catch-up and on demand.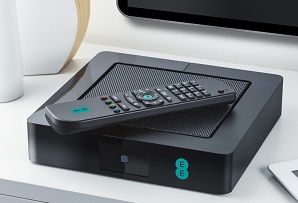 EE, the mobile and broadband network operator, has launched a TV set-top box in a bid to compete with broadband rivals BT, Virgin and TalkTalk. EE TV, which will be provided free to internet customers, will offer 70 freeview channels as well as catch-up and on demand services.

It will also allow users to stream content direct to smartphones and tablets. The move ratchets up competition in the home broadband market, where EE's competitors offer similar TV services. The new service will rival YouView, a consortium created by the BBC, Channel 4, ITV, TalkTalk, BT and others, which was launched in 2012 and provides TV on demand.
'It's a logical move from EE and one that's in direct response to BT launching its mobile service next year,' said Paolo Pescatore, a director at analysts CCS Insight.
''With EE's broadband business posting good quarterly subscriber growth it has a strong subscriber base to cross-sell to, and puts it in a far stronger position than other quad-play [TV, mobile, internet, landline phone] providers - Virgin Media and TalkTalk. Today's announcement puts the pressure on others to accelerate their own quad-play plans.'