EIB offers extra £4bn for small business
The Government will push banks to promote a new £4bn loan facility for SMEs, courtesy of the EIB.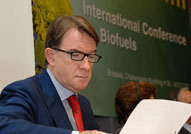 Chancellor Alistair Darling and Business Secretary Lord Mandelson will today announce that £4bn of a £24bn European Investment Bank fund has been earmarked for UK small businesses struggling to cope with the economic chaos. Now all the Government has to do is persuade our biggest banks to channel this money to the right places on the right terms – and indications suggest they're a bit lukewarm about the prospect...
The EIB has created this £24bn Europe-wide pot to boost lending to small businesses, who have been finding it harder to get access to finance as banks across the continent have cut back on their lending in the wake of the financial crisis (or charged horribly punitive terms for the privilege). Its funds formed just 1% of the £5.7bn lent to SMEs last year, according to the British Bankers Association, but the Government is hoping this will increase substantially this year. And since the banks are not going to lend anything like as much as this if left to their own devices, it's about the best hope Britain's small businesses have got.
The only slight problem is that the banks don't seem particularly keen on the idea. The Guardian reports that Barclays (which is apparently almost ready to roll out the facility) is not convinced that these funds are any cheaper than they can get elsewhere – meaning that they're reluctant to offer much-improved terms all of a sudden. HSBC is supposedly also unconvinced, suggesting that it didn't need the EIB's money (which seems to us to be missing the point slightly).