How Electrolux reinvented itself
Hans Stråberg, CEO of appliances company Electrolux, explains how he extricated his company from the middle-market trap, in which low-cost companies like China's Haier were applying pressure at the low-end of the market and premium competitors like Bosch were growing at the expense of middle-of-the road brands.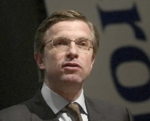 By looking at what happened in the vacuum cleaners market, he realised that when the change took place the middle was squeezed very fast, often in a matter of a few years.
He wanted to be a step ahead of the trend before it hit them and by travelling to Asia to visit the new players he realised that his company's middle market was "on the verge of disappearing". He shipped some of the new competitors' goods home and his manager role played as LG or Samsung executives, strategising how to beat incumbents.
As a result of their studies, the company changed the way it looked at customer segmentation. Rather than a "good-better-best" configuration, they shifted to 20 "product positions" based on customers' lifestyles. They also separated their business into two divisions, one targeting the top end and one the lower end.
"At one end you're selling freestanding countertop refrigerators, which just fill a basic need…At the other end you're working with consumers and retailers who are buying a kitchen solution to fit their specific needs."
They also committed themselves to marketing a 'master global brand' which now accounts for 50% of total group sales up from 10% in 2000.
The most important lesson for companies facing a middle-market squeeze is to examine their customers and find out what they really need rather than what they say they need, said Stråberg. He added: "Henry Ford is supposed to have said, 'If I had asked people what they wanted, I would have made faster horses.'…You have to figure out what people really want."
Source:
Escaping the middle-market trap: An interview with the CEO of Electrolux
Trond Riiber Knudsen
The McKinsey Quarterly Online, 13 December 2006
Review by Morice Mendoza