Elisabeth Murdoch: 'I'm not like James'
In her speech to the assorted media luminaries at the Edinburgh Television Festival, Elisabeth Murdoch was keen to distance herself from the tainted reputations of her brother and father. 'James claimed that the only reliable and perpetual guarantor of independence is profit,' she said. 'He clearly intended the statement to be provocative but the reason his statement sat so uncomfortably is that profit without purpose is a recipe for disaster.' Et tu, Brute?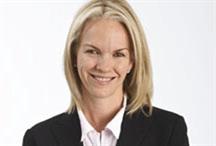 Speaking at the James MacTaggart Memorial Lecture last night, Elisabeth Murdoch defended the independence of the BBC, claimed that profit without purpose was 'a recipe for disaster' and criticised the 'dearth of integrity' across the media, as evidenced by Leveson. It was very clear that she meant to distance herself from her family, most notably brother James, who champtioned profit and lambasted the BBC in his MacTaggart speech three years earlier.
So why draw a line in the sand? Well, the word on the street is that Murdoch could be about to jump up the News Corp ladder and overtake her brother as successor to the media empire.
Murdoch, a veteran of MT's 35 women under 35, recently appointed a new CEO at her television production company Shine, moving to become chairman instead. Shine, interestingly, makes Masterchef and Merlin for the BBC. It was also allegedly she who suggested to her father that James should take a leave of absence from the corporation and step aside.