Elon Musk: You won't be able to escape killer robots by fleeing to Mars
The real-life Tony Stark is worried artificial intelligence could end up deleting humans like spam. And admits he reads too much sci-fi.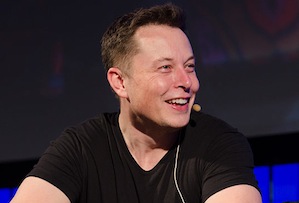 Elon Musk is nothing if not imaginative – after founding PayPal (due to be spun off from Ebay), he set up electric car company Tesla (which unveiled its not-quite-self-driving D model on Thursday), solar panel maker SolarCity and SpaceX, with which he aims to get people travelling cheaply to Mars.

So imaginative, in fact, he's worried artificial intelligence could threaten humanity soon at the rate it's developing.

'I don't most people understand just how quickly machine intelligence is advancing,' the billionaire – and real-life inspiration for Iron Man Tony Stark - told American writer Walter Isaacson on stage at the Vanity Fair New Establishment Summit on Wednesday night.

'If there's a super intelligent [machine], particularly if it's engaged in recursive self-improvement… and its utility function is something that's detrimental to humanity, then it will have a very bad effect,' he warned.

'It could just be something like getting rid of spam email and if it concludes the best way of getting rid of spam is getting rid of humans…' Musk let that rather ominous thought trail off.

And we won't be able to escape, Musk said in response to Isaacson asking if we could escape from killer robots to Mars on a SpaceX rocket (he told MT earlier this year he plans to be flying there within a decade). 'More likely than not that if there's some ... apocalypse scenario, it may follow people from Earth,' he said.

'Do you think you maybe read too much science fiction?' Isaacson asked Musk. 'Yes, that's possible,' he replied. 'Probably.'
At least he's self-aware, then, although he also said there's a 'one in a billion chance that this is reality'. The question is would Musk take the blue pill or the red pill?