Elton John, the EEC, Lord Weinstock and the 3-day week: A journey back to 1973
Photo feature: When the UK joined the EU, it was in many ways at its lowest ebb.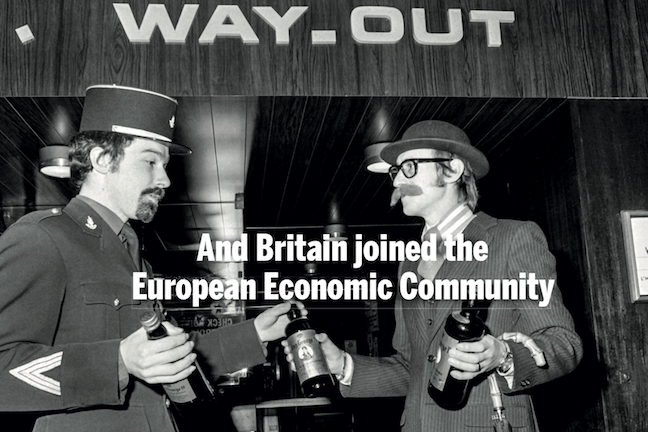 When the UK entered the European Economic Community on 1 January 1973, most Britons didn't notice. The front-page headline in The Guardian summed up the national mood: "We're in – but without the fireworks." Reporters David McKie and Dennis Barker wrote: "It was difficult to tell that anything of importance had occurred and a date, which will be entered in the history books as long as histories of Britain are written, was taken by most people as a matter of course."
One reason why it was all so low key was that the UK had joined the EEC without a referendum. Prime minister Edward Heath, most of his ministers and nearly every large company in Britain thought joining was the right thing to do. The decision would be endorsed retrospectively by British voters in 1975 in a one-sided referendum. The Yes campaign won two-thirds of the vote after raising more than £1m in donations (ICI and Shell were particularly generous) compared with £9,000 for No.
Yet in 1973, Britons didn't seem to know what to make of the EEC. A BBC poll found that 38 per cent were happy to join this new and improved free-trade area, 39 per cent were unhappy and 23 per cent didn't know or didn't care.