Emirates airline founder Sir Maurice Flanagan: Dubai is like Venice in its pomp
You Live & You Learn: Sir Maurice Flanagan, founder of Emirates airline, on ditching a football career, his admiration for Ryanair, and why autocracy doesn't work.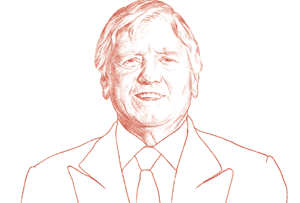 I could have been a professional footballer and trialled with Blackburn Rovers. But I snapped my cruciate ligaments, an injury that has dogged me ever since. It's as well I didn't - footballers made £7 a week in those days.
So I joined BOAC in 1953. (Bastards Overseas Avoiding Conscription, as it was known.) Got posted to Kano, Calcutta, Tripoli, Bangkok. You saluted the captain and flag as you taxied out in those days. Lovely organisation.
The BA/Iberia merger was a bad idea. The business is inherently unprofitable. It shows that size isn't all. Economies of scale go backwards after a certain point.