Employees still value CSR, despite recession
Downturn or no, workers still work harder for firms which do the right thing, says survey.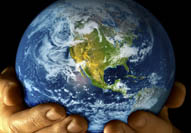 Even in a chilly economic climate, people prefer to work for companies that do right by the environment and their fellow human beings, it seems. At any rate, that's the conclusion of a survey of 1,000 employees by the Kenexa Research Institute, a division of US-based HR and recruitment specialist Kenexa.

It found that workers who rated their firm's environmental and corporate responsibility activities positively were more likely to be proud of the organisation; demonstrated a higher level of job satisfaction; were more likely to say they wanted to stay, and were also more likely to recommend it as a place of work to their friends. Plenty of qualitative upside, then, if not much in the way of quantitative justification. Perhaps they think that too many numbers would make our heads hurt.

It even claims that the benefits go all the way to the bottom line, where responsible firms outperform their less-sustainable rivals on 'important financial metrics such as diluted earnings per share'. An impressive claim once again, and one we'd have been happier to take at face value with a few hard numbers to back it up.

All the same, the findings do seem to indicate that those sceptics who thought that CSR was a luxury that people would ditch as soon as some economic heavy weather came along may have been judging the business community a little harshly.

Nevertheless, the survey also goes on to claim that many firms are missing a trick. Because despite all the good things that apparently accrue to socially-responsible firms, only 40% of those surveyed said their firm was responsible. Leaving nearly 60% languishing in blissful ignorance of how much better things might be, if only they boosted their green credentials and started to behave a bit more sustainably.

Furthermore, even in a recovery as slow and gradual as the UK's emergence from recession promises to be, there will still be increasing competition amongst employers for the best talent. And if the sharpest tools on the jobs market are all looking for firms whose social conscience matches their commercial performance, it behoves every employer to make sure their credentials are up to the mark. It might help you get the most out of your existing staff, too.

In today's bulletin:
Tesco continues land-grab with house-building plan
Companies get the jitters about potential hung parliament
Revenue squeezes an extra £13bn out of UK business
Employees still value CSR, despite recession
eBay joins virtual catwalk after model first quarter