Employers still discriminate on racial grounds, claims DWP
The DWP has tested the prospects of three culturally diverse fake 'job seekers', with worrying results...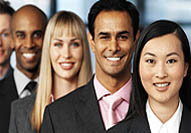 Between November 2008 and May 2009, the Department for Work and Pensions sent out fake job applications to 987 vacancies advertised in seven UK cities. Each employer targeted received an application from three fictional, but culturally distinct, applicants – 'Alison Taylor', 'Nazia Mahmood' and 'Mariam Namagembe'. The idea being to investigate whether the assumed race of an applicant would affect the success of their initial application. The DWP claims that, worryingly, in many cases it did.
The three candidates were all given equivalent qualifications and experience, including British education and work histories. But in jobs across nine occupations, 'Alison Taylor' had to submit nine applications for a positive response, while 'Nazia Mahmood' and 'Mariam Namagembe' had to submit 16 each. The report concludes that racial discrimination is the only explanation for this discrepancy.
The British Chambers of Commerce disagrees, arguing that the samples were too small – in terms of both the number of replies, and the range of occupations applied for – to be reliable. It also voiced concerns that the whole undertaking was a waste of government resources and company time.